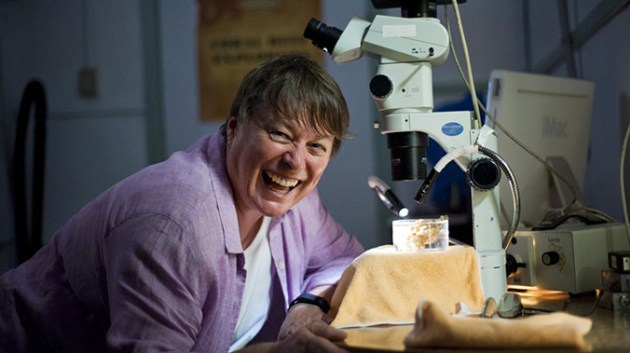 October 29, 2019
Originally published by the University of Hawaii News.  Original article available here. The Herbert W. Hoover Foundation is proud to have supported the creation of this interactive documentary.
The late Ruth Gates' amazing contributions to science, communication and coral research come together in a new interactive documentary Lost Cities. Gates passed away October 25, 2018 while serving as director and researcher at the Hawaiʻi Institute of Marine Biology at the University of Hawaiʻiat Mānoa. The online documentary reveals the hidden lives of corals, and Gates' voice completely transforms the experience.
"The loss of such a brilliant scientific mind and wonderful human being is made more bearable by this posthumous gift," said UH Mānoa Provost Michael Bruno. "Lost Cities delights and educates at the same time and it is great to be able to hear Ruth's voice once again."
Ruth Gates (Photo credit: Elyse Butler)
From the stunning, rarely-seen inner world of a single coral to massive reef structures visible from space, the story takes viewers underwater and into the lab to explore corals and their connections to us.
Unlike a film viewed in a theater, Lost Cities uses the web to create an interactive experience. Viewers can move through 13 short films in the order they choose, and access entry points to dive deeper into the themes through additional clips and photographs.
The project is a collaboration between the Gates Coral Lab, CaravanLab and Belle & Wissell Co. It contains the last recorded interview with Gates, a powerful and visionary voice for corals.
"Ruth was so passionate about corals that she wanted the rest of the world to experience how magnificent they are, and that is exactly what Lost Citiesoffers. We felt launching today would encourage everyone to reflect on her amazing contributions to research, science communications, and, of course, corals," said Gates Coral Lab Program Manager Kira Hughes.
By exploring what lies beneath the surface, Lost Cities brings to light the surprising ways the lives of corals are interwoven with our own.
Sharing Lost Cities
The project was funded by the Herbert W. Hoover Foundation, Pam Omidyar and Bill Price. The Gates Coral Lab is working with Kailua High School teachers and students to complete activities to go along with the interactive documentary so that schools across the world can actively participate in the experience.
The Phase II goal is to make Lost Cities available through an app and at kiosk stations in public spaces to reach those who otherwise wouldn't have a chance to experience it. The collaborators are currently seeking funding for that phase.
More on Gates