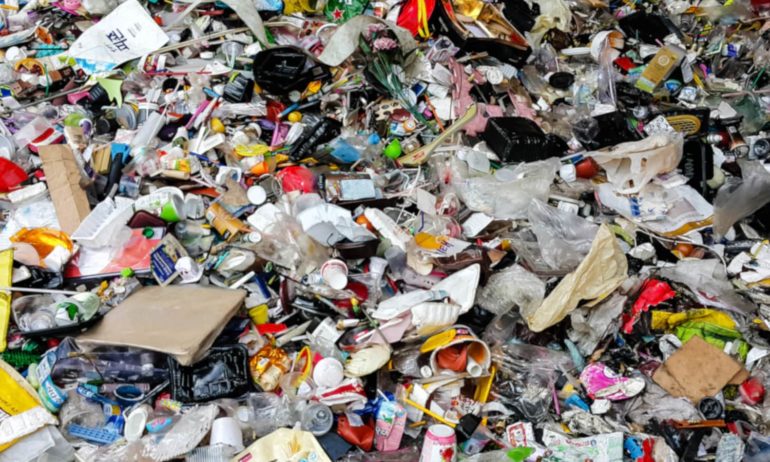 February 27, 2019
Dr. Chelsea Rochman, Assistant Professor at the University of Toronto, is cited in this article from the website foodtank.  Dr. Rochman is considered to be one of the leading experts on plastic pollution and the Herbert W. Hoover Foundation is proud to have supported her research.
Originally published by foodtank.  Original article available here.
Daily worldwide production of plastic tops over a thousand metric tons and it's ubiquitous in our lives from water bottles to grocery bags. But many scientists, including the World Health Organization, are questioning its impact on humans, as they find oceans, farmers' fields, and food products drowning in tiny plastic particles called microplastics.
Despite plastic's omnipresence, governing bodies mismanage its disposal, as Esther Garrido-Gamarro of the U.N. Food and Agriculture Organization (FAO) explains to Food Tank. "Between 1950 and 2015 only 9 percent of plastics were recycled, 12 percent incinerated, and the remaining 79 percent stored in landfills or released directly into the environment."
Instead of biodegrading, plastic persists for hundreds, even thousands of years, breaking down into particles as tiny as the flu virus. And it isn't just the physical fragments that can cause harm; toxins added during manufacturing and organic pollutants gathered during air and water travel also accumulate in ecosystems.
Marine systems bear much of the burden. "As a result of mismanaged waste, around 9 million tonnes of plastic entered the marine environment in 2010," says Ms. Garrido-Gamarro to Food Tank. Of the marine species crucial to global fisheries, she states that "microplastics…[have] been recorded in twelve out of the twenty-five most important." Although research is still in its infancy, the FAO notes that the physiology, metabolism, growth, and reproduction of marine life that eats or otherwise draws in microplastics may be impacted.
Microplastics also infiltrate the soil, in part from sewage-based fertilizers and plastic field coverings. Chelsea Rochman, Assistant Professor at the University of Toronto, writes in the journal Science that "the current evidence suggests that microplastic contamination is as ubiquitous on land and in freshwater as in the marine environment." And as an article in Scientific American observes, this puts the health of the soil—including the crops, organisms, and water residing within it—in jeopardy.
Human harm could indirectly be caused by microplastics compromising the quality and quantity of food production. With so many unknowns, those in the food industry are anxious about their livelihoods and customer health. Keith Reid, an oyster farmer on Vancouver Island, supports continued research. "It's something as an industry we need to know," he says in an article by the CBC. "Are there microplastics in our oysters? And if there are, what levels are safe?"
The direct human health impact remains unclear. Dr. Philipp Schwabl, a researcher from the University of Vienna who recently found microplastics in human stool, sat down with Food Tank to explain. "Our study is the first to give evidence that microplastics are also ingested by humans…we found microplastics in all [stool] samples," he says. While a single study is not definitive, Dr. Schwabl's work raises concern and reason for further research. "Animal studies have shown that ingested microplastics can be found in liver, lymph, and blood. If the same is true for humans…[this] needs to be investigated."
Technology and even bacteria may be useful to reverse some of the damage. In the long-term, Ms. Garrido-Gamarro suggests pushing for "improved governance at all levels as well as behavioral and system changes, such as a more circular economy, more sustainable production, and…review [of] existing regulatory frameworks." For the time being, experts urge consumers and industry to reduce plastic consumption, reuse when possible, and use proper disposal.