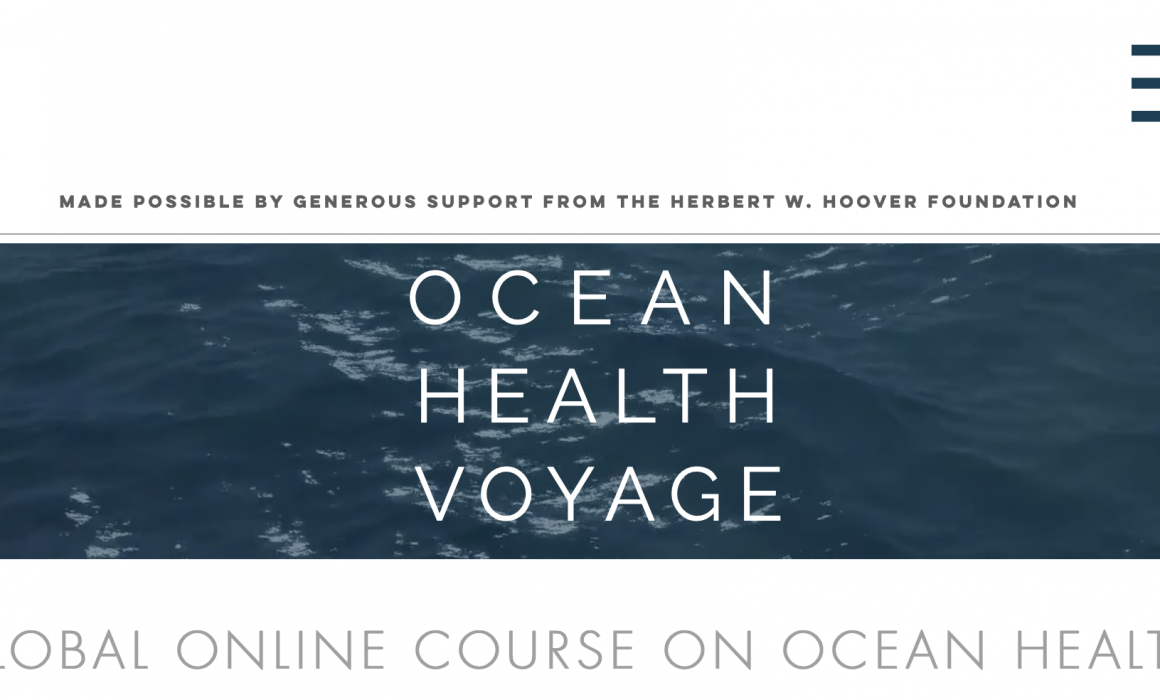 June 10, 2019
Originally published by Virtually Inspired. Original article available here. The Herbert W. Hoover Foundation is proud to have supported the University of Miami in the development of the Ocean Health Voyage global course.
Course modules taught from the field with cutting-edge research from top world marine scientists
Led by the School of Communication at the University of Miami, the Ocean Health Voyage project is herald as an innovative online teaching project that can change the impact of documentary filmmaking. With the goal to reach all majors, collaboration across schools within the university was imperative and what's more, partnerships with other universities across the globe plays a major role.
The Rosenstiel School of Marine and Atmospheric Science at the University of Miami is one of the premier oceanographic research and education institutions in the world contributes to the success of this online course. Likewise, the School of Arts and Sciences, The Office of Hemispheric & Global Affairs and the Hemispheric Consortium consisting of fourteen universities across Latin America and Canada play important roles. It is the work and passion of a professor in the School of Communication, however, with the generous support of the Herbert W. Hoover Foundation that birthed this highly innovative course about the world's ocean health.
Documentary Filmmaking as a Media for a Highly Innovative Online Course
Ali Habashi is an award-winning documentary filmmaker who has covered stories in more than 50 countries. His work has been featured in numerous publications such as USA Today and aired on international Cable and Public TV channels such as Discovery (US and India), Canal+(France), CZTV (Czech Republic), LAPTV (Latin America) and CNN Türk.
As Assistant Professor in the School of Communication at the University of Miami, Ali currently teaches courses in digital production at the Department of Cinema and Interactive Media as well as courses in science documentary film production for graduate students majoring in Public Health, Molecular Biology and Environmental Sciences.
Using his skills and passion, Ali is creating a unique approach in online learning by combining it with his unique skills set. Professor Habashi shares his insight stating, "When it comes to innovation education, …there (are) certain types of content that all of our students need to know, and we have to find new ways to reach them. So, when it comes to environmental issues and health issues, climate change, and things like that, we need to find ways to reach to all the students no matter if they're from School of Engineering, School of Communication Arts and Sciences, or School of Education. They all need to have that education. So, part of that innovation is to create those sorts of courses where we can reach all of them. And I believe that one way to do that is to get some of the most distinguished scientists to go into the field and bring that experience for them and even design assignments so that students have a meaningful way of getting involved in these sorts of topics. That is the experience that we need to create beyond one university for all of our students."
Putting much time and effort into producing a documentary without having significant impact can be frustrating to filmmakers, particularly those with a passion for their subject. Incorporating high-caliber documentary media into an online course to be experienced and retained by a much broader scope of students can be a turning point for documentary filmmakers. Not only does this bring tremendous value to their work, but most importantly, it can have the impact the work deserves by teaching critical thinking skills and cultivating the student's perspective on current events.
Ali said it best, "My personal background is documentary film-making and I've been fortunate to work in about 50 countries. But at some point, you realize, when you spend that much effort, who is retaining it and especially in our time when we are bombarded with a ton of media. And when it comes to content that matters, environmental issues, health issues, we've got to find a way that is not entertainment anymore… it is a real education."
Groundbreaking Online Specialty Course Offered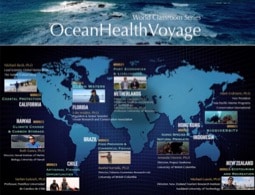 Oceans Health Voyage not only explains the science underlying the ten goals of ocean health Index but also brings the specific work of top researchers worldwide, from their field locations to university curricula. This groundbreaking introductory online course is produced professionally in ten international locations to help students in all disciplines learn and retain the core concepts of ocean health.
Thanks to the Herbert W. Hoover Foundation, Professor Habashi has been able to produce an innovative media-based online platform of the highest cinematic caliber to launch the first of many specialty courses. Colton Hoover Chase, explains "The Herbert W. Hoover was founded over 35 years ago by my grandfather Herbert W Hoover Jr. It was his vision that by funding high-class scientific endeavors and then educating the public about those endeavors the world and the public would make better decisions when it comes to interacting with the environment. The Ocean Health Voyage was really an intersection of our two focuses education and environment so when the opportunity presented itself, we jumped at the chance to fund such a great project."
Ali was fortunate to not only procure funding for his work; the course also greatly benefitted from the insight and support the foundation was able to provide. Colton lent his network of connections and his experience to help saying, "Growing up around this foundation, I had the opportunity to really grow up around some of the world's leading marine scientists. And it was almost a prerequisite for me to fall in love with the ocean. So, when it came time for me to pursue my education I inevitably went into environmental science.
When this project came around, it seems like a really great opportunity for me to leverage those relationships that had made me fall in love with the ocean and connect the world's greatest scientists with the students of the world so that hopefully they too would have the opportunity to fall in love with the ocean in the same way that I did."
In addition to bridging connections to expert marine scientists worldwide, Colton traveled with Ali to each location to film these subject matters experts while they were teaching from the field. These experiences were captured in a high-caliber documentary style video then layered modularly to build the course.
From above and under water, fundamental ocean science is taught while sharing the real-life complexities of working with stakeholders and finding solutions for balancing resource consumption and conservation.
Each module also provides a learning platform for the cutting-edge research of each scientist. Critical questions are analyzed through group discussions, student participate in innovative assignments and a capstone project and opportunities for further exploration of the topics that most interest students are shared through a wide variety of online resources.
Top Marine Scientists Teach Various Modules from Across the Globe
Having a well-informed background enables students to critically evaluate current events. The current status of our oceans worldwide is of important concern which leads many to believe that every undergraduate student should have a basic understanding of marine environments and conservation science.
Through a hemispheric consortium the presidents of 14 Pan American universities signed an agreement which includes, as one its educational initiatives, to offer this course for their students. Work is underway to prepare these universities for delivering Oceans Health Voyage.
Lourdes Dieck-Assad, Vice President for Hemispheric and Global Affairs at UM shares, "The Ocean Health Voyage course is a truly innovative platform which the University of Miami is employing to connect not only its own students to an international experience, but those of 14 universities from the Caribbean, Latin America and North America. We are in the process of deploying this unique course across our recently formed Hemispheric University Consortium, consisting of 14 universities in the hemisphere that are working together on problem-based collaborative learning. We are extremely excited about the potential that the Ocean Health Voyage has in terms of fostering global collaboration to address global challenges among students and professors across the Americas and Caribbean and look forward to the valuable knowledge it will impart on a new generation of learners ."
In his ongoing efforts to contribute to a global dialogue, Professor Habashi is planning to collectively create more courses like Ocean Health Voyage. The topic of the next one is "SMART CITIES".