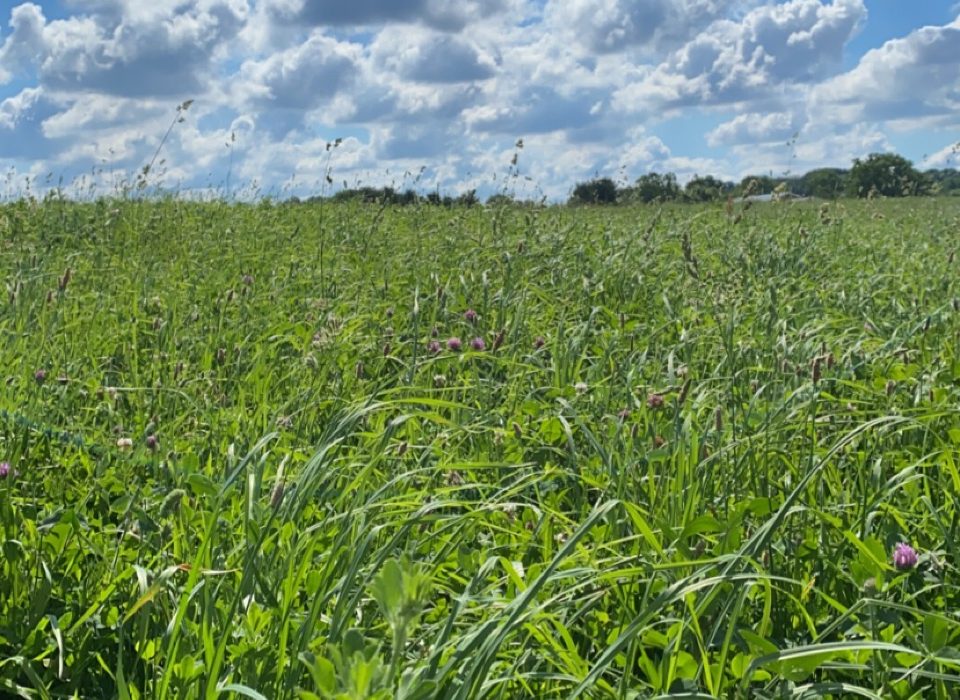 June 6, 2022
Originally published in The Canton Repository. Original article available here.
Curious eyes have been scanning how Cliff Linder and some other Stark County farmers have been taking care of their soil.
A five-year study called Stark Sustainable Soils Initiative is a project of the Ohio State University Extension Program and the university's Center for Carbon Management and Sequestration.
Its purpose is to gauge how land management practices of local farmers impact soil health, crop production and the quality of nutrients. 
Linder operates a beef cattle and grain farm in the 7000 block of Nickel Plate Avenue NE in Nimishillen Township.
Linder grows "mostly hay," he said. "Every four or five years I rotate them. We go to corn, soybeans, wheat and back to hay. They (the research team) check it on the first 6 inches, then the next 6 inches. They analyze it to see what nutrients are there, like potassium, phosphorous, nitrogen, zinc and copper, how much carbon is in the soil."
Researchers also examine the crop growth on Linder's farm.
They were looking for "growth and the nutrient uptake they took up in a year," Linder said. "You have to keep putting nutrients back. You have to replenish. It doesn't replenish itself."
Stark Sustainable Soils Initiative at midpoint
Researchers are in the middle of the study. Stark County farms were selected because the project is being funded by the local Herbert W. Hoover Foundation.
"We have perimeters to measure soil health just like we have perimeters to measure human health," said Rattan Lal, the Ohio State University professor leading the Stark Sustainable Soils Initiative study.
"We selected farms that represent a wide range of function. The range could be from 20 acres to 200 acres. We don't tell the farmers what they should do. We just select them based on different management practices."
Lal is a professor of soil science and director of the Carbon Management and Sequestration Center at the university. His project also involves the Ohio State University Extension Stark County Office. Kent State University also is taking part.
Depending on what the study reveals, "we will make a recommendation to farmers," Lal said. "You can adopt some practices which will improve the health of the soil. The reason we are doing the project is so we can promote one health concept. The one health concept means the health of soil, animals, people, the ecosystem and the planet are interconnected. Therefore, if the health of the soil goes down, everything else goes down with it over time."
Drainage sediment goes to Gulf of Mexico
In all, 12 properties in Stark County are being examined by the research team. There is ongoing concern about soil erosion. The big-picture drainage pattern for this area is sediment carried off by liquid drainage, through a series of streams and rivers, eventually winds up in the Gulf of Mexico.
"It takes nitrogen, phosphorus and potassium with it," Lal said "All marine life suffers. It leads to a lot of problems for our water."
To ward off such soil erosion, Lal's research team is encouraging no-till farming.
"When soil has a dark color, it is very fluffy, it is light in weight, it is very porous, it is a healthy soil," Lal said. "We have an index – soil is healthy, medium healthy or not healthy. If it is not healthy, we will talk to the (OSU Extension) agent. We will advise what can be done."
Another farmer participating in the study is Ken Blim, who has a grain farm in the 3300 block of Paris Avenue NE in Washington Township. Blim also practices land management to safeguard the health of the soil.
"We raise some cover crop," Blim said. "After our wheat comes off in July, then in a short period of time we plant cover crops; some form of grass, some clover, some radishes. It kind of opens up the ground a little bit. It will enrich the soil. We will have some sunflower in the mix. It all has to do with good soil, you will have good crops."
Part of the Stark Sustainable Soils Initiative study focuses on carbon storage, or sequestration, in the soil.
"It is an indicator of the soil health," Lal said. "Some conclusions we have is organic matter should be 1.5% of the total weight of the soil. That means the soil is healthy."