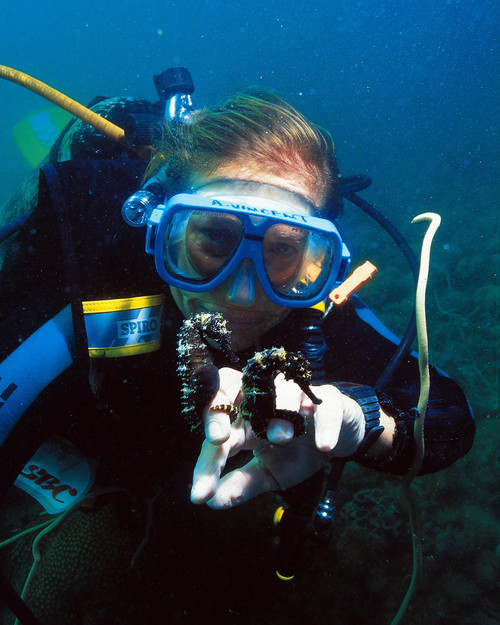 May 6, 2016
[Editors Note:  Dr. Amanda Vincent was a runner-up in this competition.  Dr. Vincent is a recent recipient of a grant from the Herbert W. Hoover Foundation, focusing on Seahorse Distribution and Marine Conservation in Biscayne National Park.
By Matt Adams, Web Producer
Note:  This article was originally published on cbs4indy.com
INDIANAPOLIS, Ind. – Carl Jones has been selected as the winner of this year's Indianapolis Prize.
Jones was recognized earlier Wednesday during a ceremony in London. Jones, chief scientist of the Durrell Wildlife Conservation Trust and scientific director of the Mauritian Wildlife Foundation, will receive $250,000 in cash and the Lilly Medal.
The Indianapolis Prize is the world's leading award for animal conservation. Jones is lauded for major victories in saving animal species from extinction. He's credited with bringing back at least nine species from the brink of extinction in his 40 years of work in Mauritius, including the Mauritius kestrel, pink pigeon, echo parakeet, Rodrigues warbler and Rodrigues fody. In addition, his work has helped restore the population of many other species.
"Winning the 2016 Indianapolis Prize is undoubtedly one of the highlights of my career," Jones said of the award. "It's a great accolade not just for me, but for Gerry Durrell and the people who have made this work possible over the years. I'm particularly proud of this award because it validates the conservation of animals — like Telfair's skinks and pink pigeons — that are not megavertebrates, but provide critically important ecosystem services nonetheless."
Dr. Simon Stuart, chair of the IUCN Species Survival Commission, nominated Jones for the Indianapolis Prize.
Born and raised in Wales, Jones received his masters and doctorate from the University of Wales in Swansea. He currently splits his time between Wales and Mauritius.
Jones will be formally honored at the 2016 Indianapolis Prize Gala in Indianapolis Oct. 15, 2016. Five other finalists for the award will receive $10,000 each:
Joel Berger, Ph.D.: (Wildlife Conservation Society, Colorado State University) Dr. Berger strives to save flagship species like the muskox in the Arctic tundra and the wild yak of the alpine on the Tibetan Plateau. Beyond studying migration paths for large mammals, Berger's actionable conservation models help researchers understand populations as modern metaphors for climate change. Berger was also a Finalist for the 2014 Indianapolis Prize.
Dee Boersma, Ph.D.: (Penguin Sentinels, University of Washington Department of Biology) Penguins, as sentinels of our oceans, have no greater champion than Dr. Boersma. For more than four decades she has studied Galapagos penguins, showing how these seabirds are indicators of environmental change. She has followed the lives of Argentina's Magellanic penguins to help strengthen protections and conservation efforts for colonies, using her science to prevent harvesting, reduce oiling and secure marine protected areas.
Rodney Jackson, Ph.D.: (Snow Leopard Conservancy) One of the world's foremost experts on the elusive, endangered snow leopard, Dr. Jackson endures harsh winters and dangerous terrain to track these "ghosts of the mountain" and teach locals how to coexist peacefully with them. Jackson was also a Finalist for the 2008, 2010 and 2012 Indianapolis Prize.
Carl Safina, Ph.D.: (The Safina Center at Stony Brook University) A crusader for the ocean and its creatures, Dr. Safina works to effectively connect humans with marine species. He has pioneered innovative approaches to studying species ranging from reef coral to whales, and established a sustainable seafood program, bringing science-based criteria to consumers. Safina was also a Finalist for the 2010 and 2014 Indianapolis Prize.
Amanda Vincent, Ph.D.: (Project Seahorse, University of British Columbia) Among the first to study seahorses underwater, Dr. Vincent helped put the world's 47 species on the global conservation agenda. Initiating the first seahorse conservation project, her programs have led to 35 no-take marine protected areas, the first global export controls for marine fishes and a bold new citizen science venture, iSeahorse. Vincent was also a Finalist for the 2010 Indianapolis Prize.