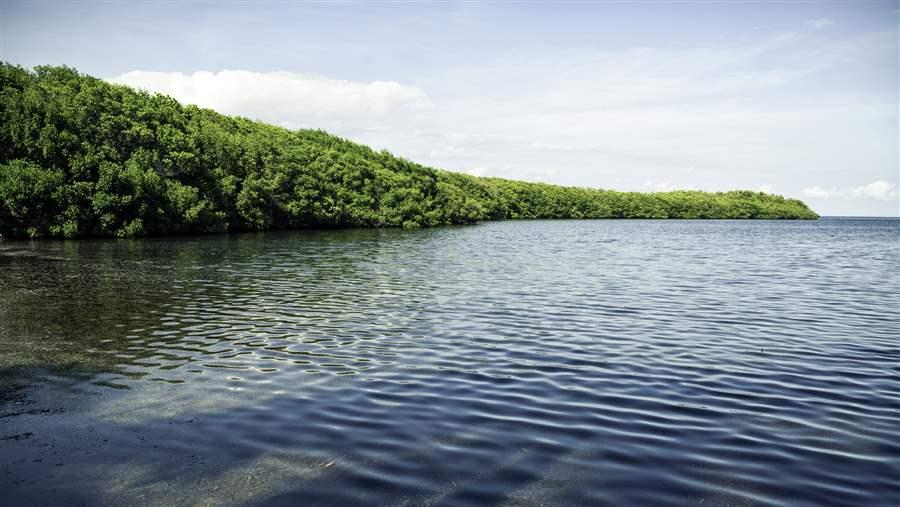 February 7, 2017
February 7, 2017
Coral reefs, mangroves, and coastal wetlands do more than furnish habitat for wildlife and protect communities from storms. These species-rich ecosystems also provide tangible economic value, attracting recreation and tourism that support local businesses.
Research on quantifying—and, where possible, increasing—all of those values is advancing, and the resulting data should help policymakers and other stakeholders make more informed decisions about whether and how to protect and manage coastal ecosystems. Some of those experts joined regional officials and others at two recent workshops in South Florida that highlighted the emerging research. The participants included numerous Pew marine fellows—ocean conservation experts who have worked under fellowships from The Pew Charitable Trusts.
Coral conservation in Biscayne Bay
In the first workshop, held Nov. 14 at the University of Miami and organized by Pew with support from the Herbert W. Hoover Foundation, Pew fellow Les Kaufman of Boston University described how he expects Biscayne National Park, located in Florida's Biscayne Bay, to provide a corridor for reef-associated marine species as they shift their ranges in the coming decades due to warming waters.
If that critical lifeline were broken because of further coral degradation, he said, it could leave associated species with no habitat to move into. He discussed options for continued conservation, such as restoring coral reefs, which involves growing corals in a "nursery"—on land or in the ocean—and transplanting them where they are most likely to take hold and thrive.
Pew fellow Mike Beck of The Nature Conservancy and the University of California, Santa Cruz presented his research showing that coral reefs prevent billions of dollars in coastal storm damage every year.
Most reef restoration projects are too small to substantially increase these and other benefits, but larger-scale restorations might do so.  Beck suggested that such projects could create new funding opportunities by attracting capital from coastal developers, insurance companies, or related sectors.
Pew fellow Andrew Baker of University of Miami's Rosenstiel School of Marine and Atmospheric Science described how strains of heat-tolerant algae that live inside coral could be used to enhance restoration. For example, it might be possible to seed reefs with tolerant algae to prepare them for the expected warming of the ocean.
To connect these researchers' ongoing work to decision-making about this ecosystem, regional government representatives, stakeholders, and staff of Biscayne National Park provided their perspectives on priorities and current management planning. They noted, for example, that a stronger case could be made for the economic value of coastal ecosystems. The group will continue collaborating, including by consolidating the available data on corals and coral reef habitat in Biscayne National Park, and by communicating this value to the public.
Caribbean coral restoration
In the second workshop, held Nov. 15–17 at Nova Southeastern University in Fort Lauderdale, Pew marine fellow Bob Richmond of the University of Hawaii emphasized the need to restore reefs using genetically diverse corals that can cope with unexpected stress, especially because climate change is expected to bring novel environmental conditions.
One technique for achieving that is larval propagation, which involves creating new combinations of coral genes through sexual reproduction in a laboratory. This, researchers say, yields more diversity than does the dominant technique of growing new corals from fragments of existing ones.
The Fort Lauderdale workshop was convened by the National Oceanographic and Atmospheric Administration and focused on improving and expanding reefs throughout the Caribbean. More than 100 practitioners, scientists, and managers attended, including Pew fellows Kaufman, Beck, and Baker.
Larval propagation may also prove a faster way to regenerate a reef than individual plantings, which most restoration projects now use, although it is not clear how to reliably coax young, mobile corals to settle in large numbers to create new reefs.
Experts reiterated messages from the first workshop, namely that large, fast-growing reef restoration projects would offer flood protection for long, contiguous swaths of coastline and thus could attract funding from sources other than traditional conservation-minded supporters.
It is through projects like these that Pew staff is helping to foster research that is scientifically credible and part of realistic solutions to pressing problems.
Polita Glynn directs the Pew Fellows Program in Marine Conservation at The Pew Charitable Trusts.