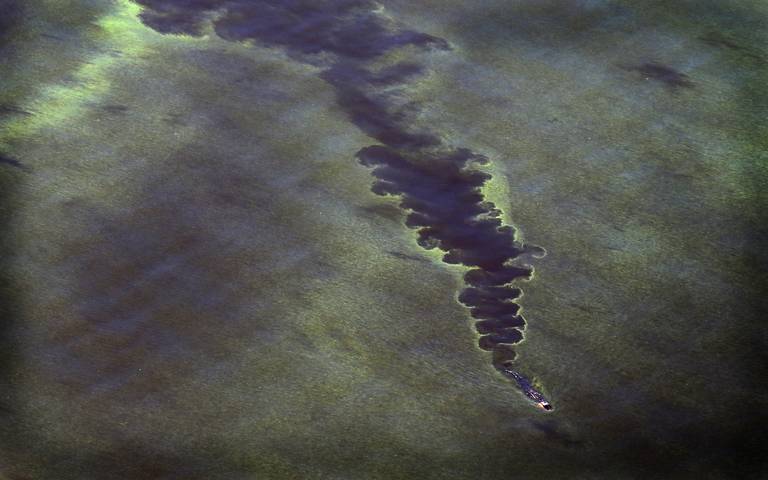 March 23, 2020
Originally published by the Miami Herald. Original article available here.
BY HOWARD COHEN FEBRUARY 28, 2020 11:45 AM 
Florida's persistent blue-green algae problem in waterways has already been linked to respiratory problems.
Now, a team of researchers, led by a University of Miami neurology professor, have found that the toxin in those algae blooms can lead to amyotrophic lateral sclerosis (ALS), a debilitating and progressive neurodegnerative disease that destroys nerve cells in the brain and spinal cord.
On the positive side, the new study also found a promising advancement in the treatment of ALS, commonly known as Lou Gehrig's Disease.
The study, published in the Journal of Neuropathology & Experimental Neurology on Feb. 20, linked a toxin produced by blue-green algae to ALS. But it also found that a naturally occurring amino acid, L-serine, could be a possible treatment to combat the painful and deadly disease that wastes away muscles.
The scientists led by the study's first author, David Davis, UM's neurology professor and director of the Brain Endowment Bank, included Deborah Mash, a research professor at Nova Southeastern University's Dr. Kiran C. Patel College of Allopathic Medicine, and Paul Alan Cox, executive director of the Brain Chemistry Labs in Jackson Hole, Wyoming.
The team, working at the Behavioral Science Foundation, a research facility on the island of St. Kitts, exposed vervet monkeys to a cyanobacterial neurotoxin called BMAA that is produced by blue-green algae, which has wreaked havoc on Florida's shores.
The monkeys began to exhibit pathological changes in their bodies similar to what happens to people's spinal cords in the early stages of ALS. Monkeys, rather than rodents, were used because they more closely mirror how ALS develops in humans, according to Davis.
But when these vervet monkeys were fed the L-serine amino acid at the same time they were dosed with the blue-green algae toxin for 140 days, the strategy proved illuminating. These monkeys showed a reduction in ALS-like maladies in their spinal cords.
"The big message is that dietary exposure to this cyanobacterial toxin triggers ALS-type pathology, and if you include L-serine in the diet, it could slow the progression of these pathological changes," Davis said in a statement provided by UM. "I was surprised at how close the model mirrored ALS in humans."
Mash said the results "holds promise for identifying a cause of sporadic ALS, which accounts for 90% of all ALS cases," in a statement provided by Brain Chemistry Labs.
"While these data provide valuable insights, we do not yet know if L-serine will improve outcomes for human patients with ALS," added ALS expert Walter Bradley, who was also an author on the study.
"We need to carefully continue FDA-approved clinical trials before we can recommend that L-serine be added to the neurologists' toolbox for the treatment of ALS. However, this vervet BMAA model will be an important new tool in the quest for new drugs to treat ALS," Bradley said in a Brain Chemistry Labs release.
This will be the "next step" in the researchers' plans, Davis said in a UM report. "We are very curious about how BMAA affects individuals in South Florida."
L-serine is found in soy products, sweet potatoes, eggs, meat, and some edible seaweed, according to Cognitive Vitality. L-serine is also sold as a dietary supplement.
The new study did not specifically say consuming these foods or taking a supplement would halt the progression of ALS or make one immune from getting the disease.
BLUE-GREEN ALGAE TOXINS
Howard Simon, founder of the Clean Okeechobee Waters Foundation, worked alongside Davis' team. Simon, who retired as the executive director of the American Civil Liberties Union of Florida in 2018, summarized the blue-green toxic findings as such:
▪ Cyanobacteria produces an enormous number of toxins, including microcystin and BMAA (β-Methylamino- l-alanine).
▪ Microcystin has been linked to non-alcoholic liver disease and liver cancer.
▪ BMAA has been linked to neuro-degenerative diseases, including ALS, Alzheimer's and Parkinson's.
▪ The newest research establishes that BMAA is a cause of early stages of ALS in vervet monkeys.
"Of course, more research is needed to determine how much exposure to the cyanobacteria toxin BMAA, and over how long a period, increases the risk of neurodegenerative diseases — much like the question several decades ago: how many cigarettes will increase my risk of lung cancer?" Simon said in an email to the Miami Herald.
WHAT IS ALS?
ALS takes two forms: sporadic — the most common form accounting for between 90% to 95% of all cases — and familial, or inherited ALS, which accounts for 5% of the cases, according to the ALS Association.
Four drugs are approved by the FDA to treat ALS and there are nationwide support groups devoted to education on the disease, but there is no cure.
ALS usually strikes people between the ages of 40 and 70 and there are an estimated 16,000 Americans who have the disease at any given time, according to the ALS Association.
New York Yankees great Lou Gehrig, who died at age 37 of ALS in 1941, may be the adopted namesake of the disease that was discovered by French neurologist Jean-Martin Charcot in 1869, but other notable people also suffered from the ailment.
These names include theoretical physicist Stephen Hawking, Baseball Hall of Fame pitcher Jim "Catfish" Hunter, Toto bassist Mike Porcaro and actor David Niven.
FLORIDA'S 'MASSIVE' BLUE-GREEN ALGAE PROBLEM
"This latest research advances the understanding of crippling and terminal neuro-degenerative diseases, including ALS and Alzheimer's disease," said Simon. "The evidence from research is mounting, and it is pointing in the same direction: cyanobacteria (commonly called blue-green algae) produces the toxin BMAA, which has been linked to Alzheimer's — and this latest research now shows that it triggers the earliest stages of ALS in vervet monkeys."
Simon, now a public policy advocate in Sanibel, Simon hopes the research spurs action in Gov. Ron DeSantis' administration.
In April 2019, DeSantis named the state's first panel to tackle what he called a "massive problem" — blue-green algae.
Among those on the panel were researchers from Florida International University, the University of Florida, Florida Atlantic University, Florida Gulf Coast University and the Smithsonian Marine Station at Fort Pierce.
---
Simon says the UM-led researchers' L-serine findings are timely today.
"This research lends greater urgency to the effort to get the Legislature to convert science into effective policies," Simon said. "Pending legislation (Senate Bill 712, the Clean Waterways Act) needs to be strengthened with regulatory strategies to curb the pollution of Florida waters that fuels algae blooms — which in turn creates the toxin that is poisoning the people of Florida."