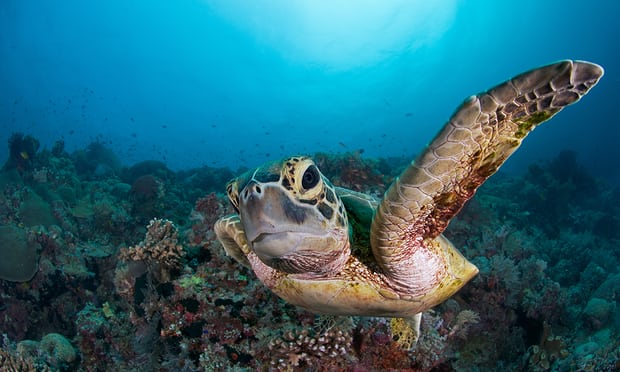 January 16, 2018
SOURCE:  The Guardian/Helena Pozniak   Jan 12, 2018
Thanks in part to the BBC wildlife series, there has been a sea change in the popularity of marine biology courses and the study of the world's oceans.
When she was just 12 years old, an impressionable Cathy Lucas, now associate professor in marine biology at the University of Southampton, met Sir David Attenborough. He'd come to talk to students about his 1979 landmark wildlife series Life on Earth. "I thrust him my copy of his book to sign. He inspired me to go on and study zoology."
Just back from a research trip to Saudi Arabia, she's since spent years investigating what makes jellyfish tick – programme makers at the BBC's latest natural history series Blue Planet IIsought her expertise for a segment. Although jellyfish have been around for at least 500m years, they've remained the poor relation of marine life, often misrepresented as freakish, alien blobs, says Lucas.
But recent population blooms have piqued scientists' interest. "Attention is focused on what's driving this growth in numbers – and the effect this has on the oceans." Invited to a screening of the Blue Planet II series, she once again heard Attenborough speak and thought: "Here I am, doing this, as my actual job."
Lucas teaches students on Southampton's marine biology degrees based at the National Oceanography Centre. Like many universities around the country, Southampton is noticing the "Blue Planet effect" on the numbers of students interested in the field. "Big series such as these are critical in raising awareness of the issues facing marine wildlife," says Lucas.
Even between the first and second series, there have been dramatic changes in the oceans, says David Duffy, a research fellow at Bangor University. "Most of these changes can be traced back to human activity, which is having a devastating impact."
Duffy is working with scientists at the Sea Turtle hospital in the Whitney laboratory for marine bioscience at the University of Florida, investigating the huge rise in cases of young turtles suffering cancerous tumours. "Numbers worldwide are skyrocketing and this is almost certainly due to human activity, but we don't know exactly what activity," he says.
Drawing on techniques he developed during five years spent researching human cancers, Duffy has been analysing samples from the turtles operated on: "I became convinced that the cutting-edge techniques I was using could be applied more broadly, so I embarked upon a project that brought me back to wildlife and the sea – having studied marine snails as a postgrad."
From acidification of the oceans to the aggression of hermit crabs, there's no shortage of research avenues, says Prof Mark Briffa who's taught students on Plymouth University's one-year master of research (MRes) in marine biology. As professor of animal behaviour in the School of Biological and Marine Sciences, he's currently researching how and why sea anemones fight.
"We're still seeing students coming through who were inspired by the first Blue Planet series," he says.
Plymouth accepts about 20 students on the year-long course, which kicks off with some taught modules to build research skills. Students then pursue individual research projects, working with university researchers or those based at the nearby Marine Biological Association. They may investigate local shores, go offshore or travel to a research facility in Ischia, Italy.
"The degree gives you a chance to dip your toe into research and see if it's for you," says Briffa. Students go on to find work with marine agencies and environmental consultancies, he says.
Briffa hopes the students also leave inspired with a sense of wonder and curiosity: "I can go to a local rocky shore and pick up a single rock and find some major divisions of life – that can't fail to fascinate anyone.
"It sparks questions of why animals live where they do and how they survived. There's a whole world down there that people simply aren't aware of."