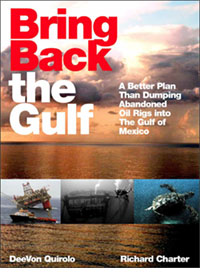 April 17, 2015
Bring Back the Gulf is a timely publication that analyzes the scientific, environmental, legal, social and political aspects of the U.S. Interior Department's Rigs-to-Reefs program and is now available as a PDF file and as an E-book.
Authors DeeVon Quirolo and Richard Charter conclude that the best course is to support compliance and enforcement of the obligation contained in each offshore oil lease with the U.S. Interior Department that requires full decommissioning of spent oil and gas structures to restore the seabed to its previous natural state.
For more information, contact Richard Charter at waterway@sonic.net.
The underlying agreement between the oil companies and the public has, from the beginning, been based on clear assurances that spent offshore drilling rigs would be removed and the seafloor restored when oil and gas extraction reached its conclusion. Thousands of such rigs, designed as temporary installations, are coming up for decommissioning in the Gulf of Mexico over the next few years. The Rigs-to-Reefs waiver process instead allows these massive industrial structures to become permanent fixtures on the ocean floor. This waiver obviously saves the petroleum industry millions of dollars, but is not justifiable in terms of supporting larger Gulf of Mexico restoration or fisheries goals. These structures impose an unnecessary long term maintenance and liability burden on the public in states with Rigs-to-Reefs programs and create serious environmental and stakeholder issues. Bring Back the Gulf is the story of how Big Oil decided to fool the American taxpayer, and why their complicated scheme is not in the public interest.
CLICK ON THE IMAGE TO DOWNLOAD
Bring Back the Gulf



For your iPad
Bring Back the Gulf



Kindle Reader
Bring Back the Gulf



PDF Document
Infographic



PDF Document
Letter to Interior



PDF Document