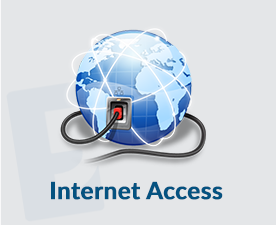 August 24, 2016
The Herbert W. Hoover Foundation was the initial funder of a study for broadband access and feasibility in Stark County.  This editorial originally appeared in the Canton Repository on August 21, 2016.
By The Repository Editorial Board
August 21. 2016 7:45AM
Earlier this month, Fairlawn began constructing its FairlawnGig network in neighborhoods across the city. The municipal broadband utility is already delivering "warp" internet speeds to select areas, according to media reports.
It could take up to two years and $10 million to run the network past each of Fairlawn's 3,800 homes and business, but once it's complete, internet speeds will dwarf those now available. According to the city, speeds will be 20 times faster for downloads and 200 times faster for uploads than anything previously available. Residential plans range from $30 to $75 a month. Businesses plans cost from $150 to $500.
A similar story has unfolded in Hudson, which last fall launched its Velocity Broadband service, which the city promises will outpace and be more reliable than any existing service offered by cable, phone and wireless companies, according to Crain's Cleveland Business.
Hudson, Fairlawn and hundreds of other cities across the country are embarking on this digital frontier in hopes of providing faster and cheaper internet service to residents and businesses.
In Stark County, a similar push is underway. The Stark County Area Broadband Task Team will release a feasibility study Oct. 12 during a program at Kent State University at Stark. The Canton Repository's Edd Pritchard reported Tuesday that Kent State Stark is the task team's newest partner. It plans to explore opportunities for service, research and integration.
The Broadband Task Team, made up of large and small businesses, local governments and nonprofit agencies, believes high-speed broadband is needed to support an economy that's more and more reliant on internet-based applications and cloud computing and that one day will see artificial intelligence and robotics "supplement" human labor. Access to high-speed broadband can help the county improve educational opportunities, retain our best and brightest workers and expand the economy.
The so-called "fourth utility" would provide 1 gigabit service to households and 100 gigabit service to businesses. Currently, Ohio's average speed is 28 megabits, according to Seattle-based Speedtest. Service at 1 gigabit would provide speed about 35 times faster.
Jackie DeGarmo, founder and co-chair of the task team, compares — accurately — these efforts to those of the city of Canton in the 1950s and 1960s, when the leaders constructed a massive water system to serve resident and industries. Today, the water system is considered one of the city's greatest assets. It has been used as a marketing tool to lure big businesses.
DeGarmo says the task team's goals can be achieved in several ways, including through public-private partnership that involves current providers.
The study, which is being prepared by Magellan Advisors, will be key to determining how much a high-speed broadband network will cost to construct, how to fund the work and its overall feasibility. Ninety community leaders already have been interviewed, but the task team needs more input. That's why we urge residents to participate in a survey at TheForthUtility.com. (Yes, it's "forth" in the URL.)
Let's not fall behind other cities that aggressively are laying the infrastructure of the future. If we truly want to reverse the negative economic trends of the last few decades and turn Stark County into a place our children want to call home, than it's imperative that we recognize the value of this endeavor and embrace the work of the Stark County Broadband Task.