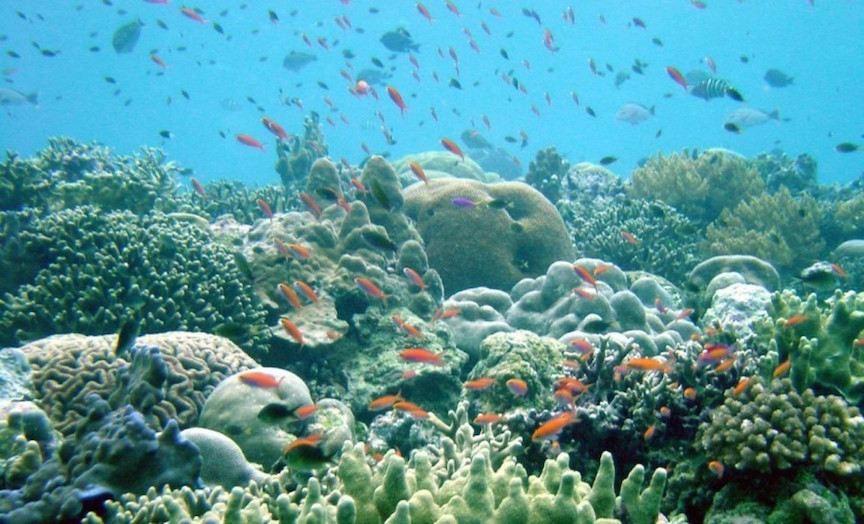 October 21, 2015
[Editors Note:  This article originally appeared in the Washington Post on October 20, 2015]
By Darryl Fears
The sunscreen that snorkelers, beachgoers and children romping in the waves lather on for protection is killing coral and reefs around the globe. And a new study finds that a single drop in a small area is all it takes for the chemicals in the lotion to mount an attack.
The study, released Tuesday, was conducted in the U.S. Virgin Islands and Hawaii several years after a chance encounter between a group of researchers on one of the Caribbean beaches, Trunk Bay, and a vendor waiting for the day's invasion of tourists. Just wait to see what they'd leave behind, he told the scientists – "a long oil slick." His comment sparked the idea for the research.
Not only did the study determine that a tiny amount of sunscreen is all it takes to begin damaging the delicate corals — the equivalent of a drop of water in a half-dozen Olympic-sized swimming pools — it documented three different ways that the ingredient oxybenzone breaks the coral down, robbing it of life-giving nutrients and turning it ghostly white.
Yet beach crowds aren't the only people who add to the demise of the coral reefs found just off shore. Athletes who slather sunscreen on before a run, mothers who coat their children before outdoor play and people trying to catch some rays in the park all come home and wash it off.
Cities such as Ocean City, Md., and Fort Lauderdale, Fla., have built sewer outfalls that jettison tainted wastewater away from public beaches, sending personal care products with a cocktail of chemicals into the ocean. On top of that, sewer overflows during heavy rains spew millions of tons of waste mixed with stormwater into rivers and streams. Like sunscreen lotions, products like birth-control pills contain chemicals that are endocrine disruptors and alter the way organisms grow. Those are among the main suspects in an investigation into why male fish such as bass are developing female organs.
Research for the new study was conducted only on the two islands. But across the world each year, up to 14,000 tons of sunscreen lotions are discharged into coral reef, and much of it "contains between 1 and 10 percent oxybenzone," the authors said. They estimate that places at least 10 percent of reefs at risk of high exposure, judging from how reefs are located in popular tourism areas.
"The most direct evidence we have is from beaches with a large amount of people in the water," said John Fauth, an associate professor of biology at the University of Central Florida in Orlando. "But another way is through the wastewater streams. People come inside and step into the shower. People forget it goes somewhere."
The study was published Tuesday in the journal Archives of Environmental Contamination and Toxicology. Fauth co-authored the study with Craig Downs of the nonprofit Haereticus Environmental Laboratory in Clifford, Va., and Esti Kramarsky-Winter, a researcher in the Department of Zoology at Tel Aviv University in Israel.
Their findings follow a National Oceanic and Atmospheric Administration study two weeks ago that said the world is in the midst of a third global coral bleaching event. It warned that pollution is undermining the health of coral, rendering it unable to resist bleaching or recover from the effects.
"The use of oxybenzone-containing products needs to be seriously deliberated in islands and areas where coral reef conservation is a critical issue," Downs said. "We have lost at least 80 percent of the coral reefs in the Caribbean. Any small effort to reduce oxybenzone pollution could mean that a coral reef survives a long, hot summer, or that a degraded area recovers."
Coral reefs are more than just exotic displays of color on the sea bed. The National Marine Fisheries Service, a division of the NOAA, placed their value for U.S. fisheries at $100 million. They spawn the fish humans eat and protect miles of coast from storm surge.
"Local economies also receive billions of dollars from visitors to reefs through diving tours, recreational fishing trips, hotels, restaurants, and other businesses based near reef ecosystems," NOAA said on its Web site. "Globally, coral reefs provide a net benefit of $9.6 billion each year from tourism and recreation revenues, and $5.7 billion per year from fisheries."
Oxybenzone is mixed in more than 3,500 sunscreen products worldwide, including popular brands such as Coppertone, Baby Blanket Faces, L'Oreal Paris, Hawaiian Tropic and Banana Boat. Adverse effects on coral started on with concentrations as low as 62 parts per trillion. There are alternative sunscreens with no oxybenzone, including a product called Badger Natural Sunscreen and dozens of others on a list provided by the non-profit Environmental Working Group.
Measurements of oxybenzone in seawater within coral reefs in Hawaii and the U.S. Virgin Islands found concentrations ranging from 800 parts per trillion to 1.4 parts per million," according to the authors. That's 12 times the concentrations needed to harm coral.
"This study raises our awareness of a seldom-realized threat to the health of our reef life … chemicals in the sunscreen products visitors and residents wear are toxic to young corals," said Pat Lindquist, executive director of the Napili Bay and Beach Foundation in Maui. "This knowledge is critical to us as we consider actions to mitigate threats or improve on current practices."
http://www.washingtonpost.com/news/energy-environment/wp/2015/10/20/after-sunscreen-protects-humans-it-massacres-coral-reefs/