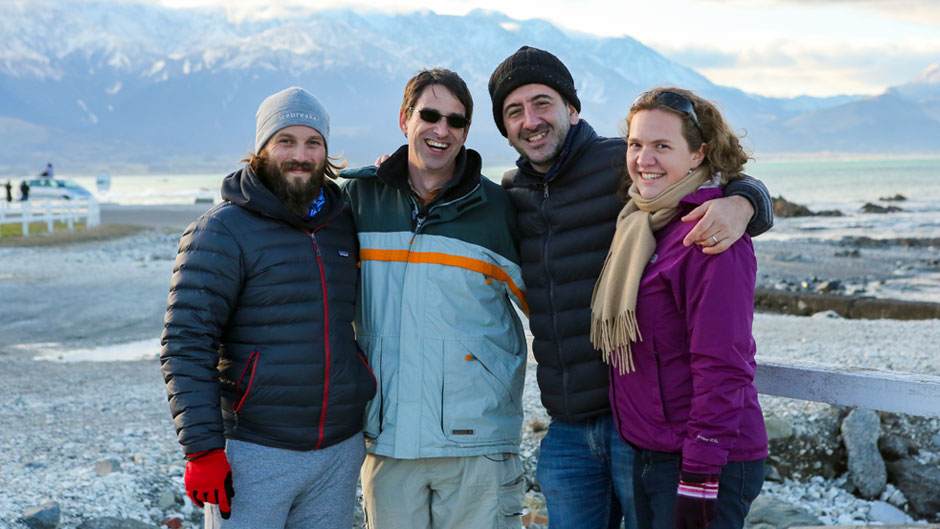 May 1, 2020
Original press release available here.
Cinematic voyage across the globe's oceans captivates and educates
---
The Ocean Health Voyage, an online educational platform produced by a University of Miami professor and award-winning filmmaker, is now offered to members of the Hemispheric University Consortium.
For two years, Ali Habashi, an award-winning filmmaker and assistant professor at the University of Miami School of Communication, set off to meet with 10 world-renowned marine biologists in 10 remote locations around the globe in order to unearth stories about the health of the world's oceans.
Even as Habashi moved from country to country, through thrilling helicopter rides and deep-sea dives, his goal always remained clear. The project had to be more than just a visually pleasing production; it had to leave a lasting impression on his audience.
"As a filmmaker, you always have to think about who is going to watch and the type of impact your work is going to have. There's no point in creating something that's going to be forgotten in a day," said Habashi.
"When it comes to addressing challenges such as environmental or global public health issues or climate change, we need to find ways to reach all the students no matter if they're studying at the School of Communication, College of Engineering, School of Education and Human Development, or Miami Herbert Business School. They all need to have that essential education," he added.
"So," Habashi continued, "part of the innovation here is to create a sustainable framework where we as communicators and filmmakers can incorporate our cinematic skillset to capture the inspiration that drives a distinguished researcher dealing with such issues in a distant location and bring that global experience to our students across the hemisphere. The new generation of students are hardly willing to settle for anything less."
With funding from the Herbert W. Hoover Foundation, the hundreds of hours of footage Habashi collected on his journey culminated in the making of Ocean Health Voyage, an innovative educational online platform that weaves a modular syllabus with adventurous documentary-style films.
As Habashi explained, the educational cinematic experience features marine researchers on-site from field locations, above and underwater, as they teach fundamental ocean science and shine a light on the real-life complexities of working with stakeholders, finding solutions for balancing resource consumption, and conservation.
"Re-channeling the energy it takes to tackle a global film and incorporating high-caliber documentary media into an innovative online platform, which can then be experienced and meaningfully retained by a much broader scope of students, can be a turning point for those professional documentary filmmakers who are working on a global scale," he said.
Now, this educational platform is available to the 14 university members of the Hemispheric University Consortium (HUC). Initiated by the University of Miami in 2018 and led by President Julio Frenk, the HUC aspires to be a space "where unique partnerships are formed among equals, subject to mutual benefit and mutual accountability, where knowledge is co-constructed, and research and innovation are shared."
With the support and leadership of each partner institution's administration and directors of innovation, the HUC universities have now adopted this educational platform. This semester, the course went from the University of Miami to being taught at Universidad Austral in Argentina, Universidad de los Andes in Colombia, Pontificia Universidad Católica Madre y Maestra in the Dominican Republic, Universidad San Francisco de Quito in Ecuador, Tecnologico de Monterrey and Universidad de las Americas Puebla in Mexico, and Universidad Peruana Cayetano Heredia in Peru.
As one of the major educational initiatives the HUC, Ocean Health Voyage provides real-life educational experiences for students throughout the hemisphere by taking them on virtual journeys to Chile, Brazil, New Zealand, Hong Kong, Indonesia, Netherlands, Hawaii, and various locations in the United States to learn about biodiversity, fisheries (commercial and artisanal), clean waters, climate change and carbon storage, coastal protection, port economies, iconic species, natural products, and ecotourism.
Maria de Lourdes Dieck-Assad, the University's vice president for hemispheric and global affairs, whose office champions the HUC, described the Ocean Health Voyage as "an innovative opportunity to collaborate and engage academic institutions throughout Latin America, the Caribbean, and Canada to mobilize their faculty and students working on issues like climate change and sustainability as one of the central pillars of the consortium," she said.
"We are proud of the results the Ocean Health Voyage course has had in a short time fostering global collaboration to address global challenges among students and professors across the hemisphere and look forward to the valuable knowledge it will impart on a new generation of learners," she added.
Gabriela Geron, director of partnerships, innovation, and communications in the office of hemispheric and global affairs, agreed that Habashi "has created an incredible course that is gaining worldwide recognition for its innovation. We are proud to support this online partnership engaging with other institutions and implementing the best technologies available for international collaboration."
In the summer of 2019, Ocean Health Voyage was featured by Virtually Inspired, a prestigious online platform powered by Drexel Online University that showcases innovation in online learning, which in turn led to a significant national exposure.
The course presents opportunities for students in different countries to collaborate remotely on group discussions, assignments, and capstone projects specifically designed to help them develop awareness of the marine conservation issues.
The student experience across universities is entirely flexible. Even before online learning became the norm as a result of the COVID-19 pandemic, University of Miami students, together with their counterparts across the hemisphere, were learning about ocean health at a custom pace that met each school's individual needs.
"Each university has its own dynamics, even in terms of the date their semester starts, or unique background of the identified faculty members. In some universities, this is a fully online course where the student will log in on their own. And, in others the faculty members use this platform as a framework for their in-person teachings," explained Habashi.
"When you are in uncharted territory, there is clearly a need for a mixture of persistence and flexibility," he added.
José Maria Cardoso da Silva, chair of the department of geography and regional studies in the College of Arts and Sciences who is currently teaching the course at the University of Miami, pointed out that the course's online delivery has proven to be indispensable as the world adapts to the coronavirus crisis
"During the course, students explore our relationships with the oceans. They use the videos combined with hands-on research to acquire a multidimensional view on the importance of the oceans for humanity. Because most of the materials are available online and I use a student-centered method, there was no problem transitioning the course to a remote format due to the pandemic," he said.